La Rock, Oldie-Night tradizionale di Steinegg Live


SUZI QUATRO & BAND


La Rock-Lady anni 70 torna in Italia
Mungo Jerry Blues Band


con i suoi sucessi: "In the Summertime", "Lady Rose, "Baby Jump" ...

gruppo spalla: "ILLYRICA" (BZ)
Aftershowband: "THE FONZIS" (BZ)
SUZI QUATRO & BAND (GB):
Suzi Quatro – la grande star femminile del Rock anni 70 torna finalmente in Italia. Suzi Quatro - la cantante di cui Gianna Nannini dice ché é ancora oggi il suo riferimento vero - fará l´unica tappa italiana da tanti anni il 29 ottobre 2011 a Collepietra (BZ).
Suzi Quatro, pseudonimo di Susan Kay Quatronella (Detroit, 3 giugno 1950), è una bassista e cantante statunitense, da molti Italiani conosciuta come Leather Tuscadero per le partecipazioni al serial televisivo Happy Days, divenne famosa per il suo rock duro e per la sua abitudine di vestire in pelle.

Nasce da Art Quatronella (di origine italiana) e Helen Sanislay (ungherese) ed è la penultima in una famiglia di tre sorelle e un fratello. Chitarrista e cantante di cui 5 successi consecutivi hanno reso la maggiore pop lady della prima metà degli anni 70: "Can The Can", "The Wild One", "48 Crash", "Daytona Demon", "She's In Love With You" e "Devil Gate Drive", grandi successi in tutto il mondo. Da non dimenticare "Stumblin In" o "A Stranger With You" - come duetto di Suzi Quatro con Chris Norman (due anni fá era ospite anche lui al Festival Steinegg Live). La Quatro è zia dell'attrice Sherilyn Fenn e sarà sempre ricordata come la regina del glam rock. Ha inoltre partecipato a 7 episodi del telefilm "Happy days" dove interpretava Leather Tuscadero. Nel 1976 Suzi si sposò con il chitarrista Len Tuckey: il matrimonio durò fino al 1992. Si è risposata nel 1993 con Rainer Haas.
MUNGO JERRY BLUES BAND (GB-A):
During the early 70's viewers tuning into their regular weekly fix of then, un-missible Top of the Pops would have regularly been greeted by a smiling, mutton-chopped, gap-toothed singer by the name of RAY DORSET, more commonly known as the singer, song-writer and guitarist of MUNGO JERRY. In a two year hit span, MUNGO JERRY contributed four Top Twenty singles, (including two Number One's) and two Top Twenty albums in their first flush of success. But after a long worldwide tour and on the way home from Australia, two other members of the band decided that RAY DORSET was out. On hearing this both the record company Pye, and the bands management Red Bus, would have none of it. They had a better idea, the others were out and RAY DORSET, the leader would now be MUNGO JERRY the Man!
The song most associated with MUNGO JERRY is the global hit 'IN THE SUMMERTIME', it sold over six million copies worldwide in the first six months of release and over thirty years later, that total is now near, a staggering thirty million sales, making it officially the most played summer song of all time. Winning for itself and it's writer RAY DORSET, prestigious Sony / MTV and Ivor Novello awards.
In describing the music of MUNGO JERRY as pure pop would be an insult to the varying styles of rock, blues, boogie and skiffle that has graced the stages of concerts and festivals which have seen MUNGO JERRY sharing and indeed at times topping the bill with the likes of JIMI HENDRIX, ROD STEWART, GENESIS, STATUS QUO, CANNED HEAT, FREE and THE GRATEFUL DEAD.
Hit singles and albums followed at regular intervals for MUNGO JERRY in the following years, songs never released in the UK also made large dents in charts as far flung as Europe and South Africa. But to say MUNGO JERRY were just a hit-making machine would be denying the many diverse musical projects the MUNGO JERRY man RAY DORSET has been involved with. A song for ELVIS, an album with PETER GREEN of FLEETWOOD MAC, a cover by SHAGGY of 'IN THE SUMMERTIME'. And a CD with top comedian Johnny Vegas
The story does not end there and in 2007 a 60 plus years young Ray Dorset is still in recording studio's releasing the much acclaimed 'NAKED FROM THE HEART' CD in addition to the Mungo Jerry extensive UK and European c
ommitments on stage and TV, which now Include the Marc Bolan 30th anniversary tribute gig at the Shepherd's Bush Empire in September.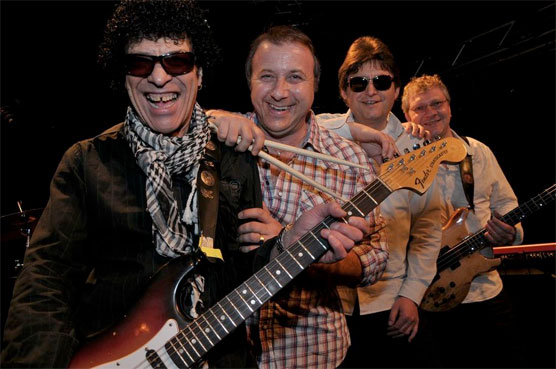 DETAGLI: data: 29 ottobre 2011 / inizio: ore 20.30 (porte aperte ca. ore 19.45) / nella casa culturale di Collepietra (BZ) - 15 minuti da Bolzano.
TICKETS / BIGLIETTI: SOLD OUT ... non ci sono piú biglietti !!!
Info-Tel: + 39 328 9469472

LINKS - Suzi Quatro:
Homepage:www.suziquatro.com
Wikipedia: http://it.wikipedia.org/wiki/Suzi_Quatro
MySpace:

LINKS - Mungo Jerry:
Homepage: http://www.mungojerry.com/
Wikipedia: http://de.wikipedia.org/wiki/Mungo_Jerry
MySpace: