mercoledí, 23/10/2013
Inizio ore 20.30 - Ingresso: tba € (+ spese preventitá)
(Seite in Deutsch)
Steinegg Live special con ....


HAINDLING (Bavaria)


... tra Jazz, Pop, Worldmusic e musica traditionale bavarese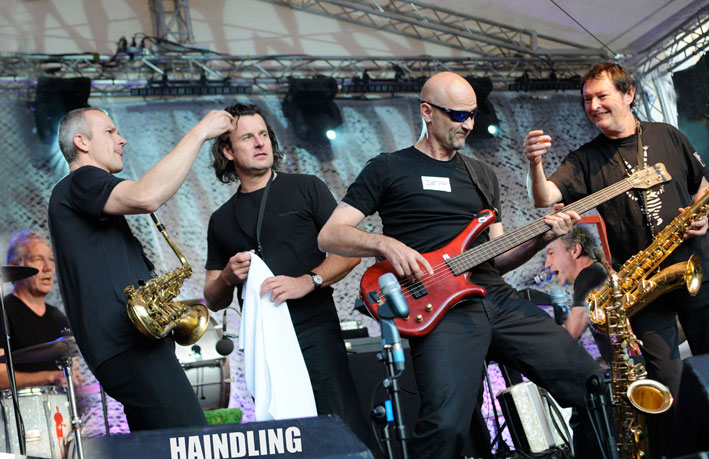 Haindling - World Muisc dalla Bavaria

Haindling is a Bavarian cult band, founded by Hans-Jürgen Buchner in 1982. The band is specialized in Bavarian world music which is mixed with all kinds of different musical styles such as pop, rock, folk, ambient, jazz and classical music. Most of the songs are written in Bavarian language and Haindling is famous for its instrumentals and film scores which were composed by Hans-Jürgen Buchner. The name of the band derives from the small village Haindling within the town of Geiselhöring in Lower Bavaria where Hans-Jürgen Buchner resides in an old inn.
They've made many songs for TV-series and theatrical movies like: Irgendwie und Sowieso, "Zur Freiheit", "Cafe Meineid", "Der Kaiser von Schexing", "Der Schandfleck", "Bavaria", "Margarete Steiff", many more.
Members: Hans-Jürgen Buchner (founder, composer, songwriter, sax, tr., keys, guitar, percussion, vocals), Michael Braun (sax, tr, tp, mellophone, keys, percussion, vocals), Peter Enderlein (drums, percussion), Wolfgang Gleixner (bass, percussion, vocals), Reinhold Hoffmann (keys, sax, oboe, mellophone, vocals), Michael Ruff (keys). All band members are multi instrumentalist, playing a variety of different instruments in concert. The band tours primarily the German speaking territories but also played in North America, China and South Africa. As to its universal sound and rich blend of musical styles, Haindling were pronounced to be the musical ambassadors of Bavaria and the musical example for "laptop and lederhosen".
In recent years, their song "Bayern (des samma mia)" gained popularity in Bavaria - most notably due to a YouTube video which features Rammstein wearing Lederhosen and apparently lip-syncing the song[1] - and is now being played at nearly every beer festival in Bavaria.


DETAGLI: sala con sedie !
TICKETS: Da adesso presso le casse Raiffeisenkassen del Alto Adige (senza spese di prevenditá) e dal 15 agosto anche presso Athesia-Ticket, Baba´s, Non Stop Music ecc. e alla cassa serale prima del concerto
Biglietti online: www.ticketone.it e www.stol.it/Ticket


Info-Tel: + 39 328 9469472

LINKS:
Presse: siehe unsere Medialounge
Haindling in Wikipedia (de): http://de.wikipedia.org/wiki/Haindling_(Band)
Haindling in Wikipedia (en): http://en.wikipedia.org/wiki/Haindling
YouTube-Kanal: http://www.youtube.com/artist/haindling
Offizielle Webseite von Haindling: http://www.haindling.de

Einige unserer Sponsoren und Partner - Danke!